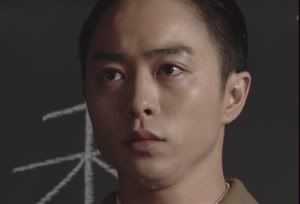 One eye-opener for me is that I never thought Japan went through any difficulties after the war. I always thought they were able to pick up where they left off and continued with their existence as if nothing happened. So this information is new to me, that the Japanese people experienced hunger and poverty as a result of the war. I was really uncertain on how the ending would be, how Shirahama-sensei would explain things to his students: how his ideals actually resulted in the death of most of his class and misfortunes for those who still lived. So his admitting that the war was a mistake and that what we should cherish is life itself is the perfect ending for me.
Our country was one of the few that were occupied by the Japanese during WWII so I had mixed feelings watching this. Although I am able to emphatize with Shirahama-san, I can't help but remember the atrocities that happened in our country during those dark times. But seeing that only bad things resulted for both sides, we should learn and live by what Shirahama-sensei has learned. That if we see the makings of a war we should exhaust all means to stop it from happening in order to protect our future. Because victory or not both parties have already lost.
I just finished watching Blackboard episode 1 - Mirai, starring fabulous Sho and I'm just really taken aback by how much his acting has improved. Even when I was watching NazoDi, I was just really,really astounded by how good he has become in his acting. Sho-kun really should win an award for this one.
Current Location:

방

Current Mood:

hot

Current Music:

嵐 - 夏の終わりに想うこと
morgandawn
at
Seems I Am Not The Only One....
......who feels the need to take a break from an increasingly dysfunctional relationship.
Original image and campaign source:
reddit
.
Edited to add my own thoughts (not part of the original reddit call for action):
And if you do not feel like taking a total break and perhaps want just a trial separation or couple's counseling, then perhaps consider Black March Lite 2.0 = spend, but spend money on those content creators and independent retailers who came out against SOPA/PIPA. And tell them why you're buying their products in March.
There are many of them.
And for those who favor the more targeted boycott, you can find info
here
. But no matter which, you
can
participate and you
can
tailor your level of participation. We have the tools, the will and the strength to take a stand.
Text of image
Black March - Thursday March 1st 2012 to Saturday March 31st 2012
With the continuing campaigns for internet-censoring litigation such as SOPA and PIPA, and the closure of sites like Megaupload under allegations of 'piracy' and 'conspiracy' the time has come to take a stand against music, film, and media companies' lobbyists.
The only way is to hit them where it hurts.
Their profit margins.
March 2012 is the end of the First Quarter in economic reports world wide.
Do not buy a single record. Do not download a single song, legally or illegally. Do not go to see a single film in cinemas, or download a copy. Do not buy a DVD in the stores. Do not buy a videogame. Do not buy a single book or magazine.
Wait the four weeks to buy them in April: see a film later, etc... Holding out for just four weeks, maximum, will leave a gaping hole in media companies profits for the first quarter, an economic hit which will in turn be observed by governments world wide as stocks and shares will blip from a large enough loss of incomes. This action will give a statement of intent:
"We will not tolerate the Media Industries' lobbying for legislation that will censor the internet."
Originally posted by


Also, I'm currently watching King of Baking, Kim Tak Gu. I watched this drama because I like Eugene a lot, and I've become addicted to it. Yoon Shi Yoon, Joo Won, and everyone are just so great that I've been really hooked. Anyway, I'm in episode 21, and stupid me just had to look for a summary because I wanted very much to find out something (and as much as I want to just watch it in one sitting I really have to go to work and make a living), and I read something about the ending that really made me sad. Now I've lost some enjoyment in watching it. Really stupid me...

If you guys haven't seen it I suggest you do. It's really a great drama and the cast is just wonderful.
It's been ages since i last went online, and I just found out that AKB48 might have the top-selling single this year, and might surpass Arashi in the Oricon rankings. I'm just so sad, I want them to have the highest sales in everything this year too. (I know some of you might think it's nothing but, this news really makes me sad).
Current Music:

Itsu made mo - Arashi
(
I've become a 50%-F4 fan
Collapse
)
I've finished watching Down with Love, and I liked Jerry Yan a lot that I also watched Hot Shots. I first saw him in the Meteor Garden series, which I only watched because I was curious if it was as good as Hana Yori Dango, and if Dao Ming Xi is as cool as the exceptional Jun-sama. I was disappointed that the series didn't really live up to my expectations. So, this is quite a surprise for me. I've also started to listen to some of his songs.
And because I didn't really have anything to watch I started Next Stop, Happiness. I quite like the acting of both Van Ness and Ady An, I was surprised they weren't even nominated for the Golden Bell(?), I thought they deserved an award for their acting, but that's just me.
(
I went TOP-spotting
Collapse
)
I watched Iris because I wanted to see if TOP can act, and it was fun watching him emit coolness across the screen, but I was kinda disappointed when he didn't have any fight scenes with Lee Byung Hun in their final scene together. I wanted to see him throw a right across his face, or something
(
My future obsessions
Collapse
)
I'm looking forward to Moon Geun Young and Jang Geun Suk's drama. and also Yi Chen's drama, taiwanese version of Coffee Prince and finally, Extravagant Challenge. I love her and it's been 2 years since her last drama, so I really want to her in a drama again.
Current Mood:

awake

Current Music:

Shizuka na Yoru Ni - Oh-Chan
I'm starting to fall for these guys...
Its a big day tomorrow, the final set concert at moa, i can't wait!!!
Current Mood:

sleepy

Current Music:

arashi: believe
I 'm a huge fan of Wolfgang, and it has always been my regret that I wasn't able to watch any of their live performances before they parted ways. Last December 10, 2008 I was able to secure vip seats for their reunion concert ( minus Wolf) in Eastwood entitled Villains, and I also received, as a gift, an autographed copy of their latest album.

Although they didn't perform Cathedral..., which if my favorite, they performed a lot of their hit songs, including Mata ng Diyos, Darkness Fell, among others. I was screaming myself to death the whole time. They will also be having a concert on March 19 this year, something like an Acoustica II. Since I was only able to enjoy the first on through my vcd copy, i'm keeping my fingers crossed and hoping that some free tickets will fall upon my very open hands.




Current Mood:

anxious

Current Music:

orion by nino